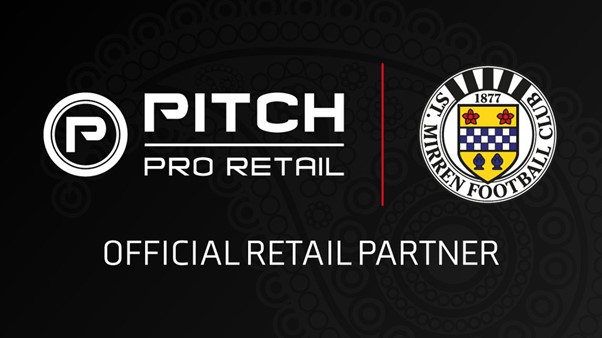 Pitch Pro Retail are delighted to unveil our new partnership with St Mirren Football Club, which will see us become the official retail partner to the Buddies. 
The new partnership is the product of the Club's 'Never Stop' Campaign, a commitment to continually review and improve the operational infrastructure around the club, with Pitch Pro Retail recognised as best suited to develop the Paisley outfit's retail operation.  
Through management of the Club's full retail operation, our ambition is to establish a flourishing, single-channel retail system at St Mirren, which will deliver for Club and supporters alike. This will start with the operation of the Club Shop and development of a brand-new online store.
Supporters may recognise that while this is a fresh and new partnership, the connection with St Mirren is rooted in the history of Pitch Pro Retail. Director and head of Pitch Pro Retail, Alan Provan, said, 
"IN THE EARLY 2000S, THE CLUB WAS AT THE HEART OF OUR FIRST VENTURE INTO KIT SUPPLY AND RETAIL MANAGEMENT AS WE TRANSITIONED FROM OUR ORIGINAL HIGH STREET SPORTS SHOPS. WHILE WE'VE GROWN SINCE WE LAST MANAGED THE SHOP IN 2014, TO BE BACK IN PAISLEY IS A SOURCE OF IMMENSE PRIDE FOR ALL INVOLVED AT PITCH.
WE CAN'T WAIT TO GET STARTED AND DEPLOY OUR EXPERTISE TO GROW AND IMPROVE THE RETAIL OPERATION AT ST MIRREN". 
Taking over the full retail operation, from merchandising to production and distribution, our service will ensure that fans have an enjoyable customer experience and a dynamic and large range of merchandise to choose from.  
St Mirren Chief Executive, Tony Fitzpatrick, said:
"WE ARE EXCITED TO WELCOME PITCH PRO RETAIL BACK TO ST MIRREN. AS MANY WILL REMEMBER, THE PROVAN FAMILY PREVIOUSLY RAN THE CLUB SHOP AS PROVAN SPORTS LIMITED. THE COMMERCIAL BENEFITS OF THIS NEW PARTNERSHIP ARE ALSO SIGNIFICANT FOR THE CLUB AND WE LOOK FORWARD TO WORKING WITH PITCH PRO RETAIL FROM THE 1ST JULY".